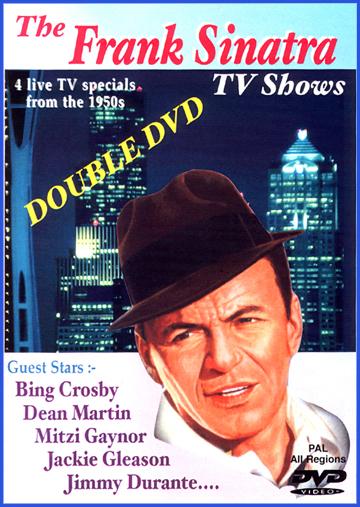 THE FRANK SINATRA SHOWS - Double DVD - 4 Shows!
MS.DVD.656 182 mins combined black/white
Taken from American TV broadcasts, here are 4 'specials' featuring Ole Blue Eyes in his swinging 50's prime. The first show features no less than Bing Crosby, Dean Martin and Mitzi Gaynor - also watch out for Durante! The second show is run by Jackie Gleason as they take to the mountains with June Hutton & a grizzly bear ! The 3rd and 4th feature Jack Benny, Eddie Cantor and Eddie Fisher.
Songs: DAY IN, DAY OUT/ TOGETHER/ TALK TO ME/ CHEEK TO CHEEK/ THOSE GOOD OLD SONGS/ HIGH HOPES/ JUST ONE OF THOSE THINGS/ ANGEL EYES/ THE LADY IS A TRAMP/ THE DURANTE MEDLEY/ IT HAD TO BE YOU/ TAKE MY LOVE/ EVERYTHING HAPPENS TO ME/ YOU'D BE SO NICE TO COME HOME TO/ LET IT SNOW/ MY HEART STOOD STILL/ I AM LOVED/ I'VE GOT MY LOVE TO KEEP ME WARM/ MY CONCERTO/ FOR YOU/ WHAT IS AMERICA TO ME?/ COME RAIN OR COME SHINE/ I'VE GOT THE WORLD ON A STRING/ THAT OLD BLACK MAGIC/ GET HAPPY/ STORMY WEATHER.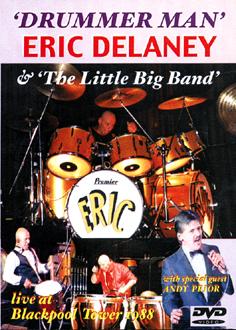 ERIC DELANEY & The Little Big Band - DRUMMER MAN
MS.DVD.564 58 mins colour
Be staggered by the legendary Eric Delaney and his Little Big Band, filmed in Blackpool's Tower Ballroom in 1988. Europe's greatest drummer plays timpani, drum kit, tubular bells, gongs and more in a tremendous percussive tour-de-force. Also featuring Andy Prior on vocals and trombone, and a great little band, this is a must for anyone who ever wanted to bash a drum.
Features: ALSO SPRACH ZARATHUSTRA/ STAR TREK/ STAR WARS/ ORANGES AND LEMONS/ TOCCATA & FUGUE/ TAKE FIVE/ ST LOUIS BLUES/ THE BELLS OF ST MARY'S/ SABRE DANCE/ MANHATTAN SPIRITUAL/ IN THE MOOD/ COME FLY WITH ME/ TANGERINE/ GETTING SENTIMENTAL OVER YOU/ DRUMMING MAN/ IN A PERSIAN MARKET/ STRIKE UP THE BAND/ MISTY/ THEME FROM NEW YORK.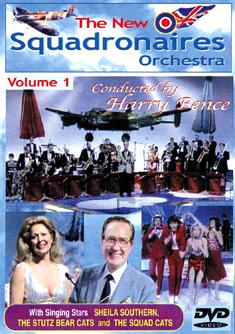 The NEW SQUADRONAIRES - Volume 1 MS.DVD.575 56 mins colour
Here is the first of two Big Band specials featuring the reformed New Squadronaires under the leadership of Harry Bence. Hear the full orchestra play the original wartime swing arrangements, beautifully filmed for TV. It also features Sheila Southern, The Stutz Bear Cats, The Squad Cats, plus a short history of the original orchestra.
Features: BEGIN THE BEGUINE/ TANGERINE/ DOIN' BASIE'S THING/ SENTIMENTAL JOURNEY/ TUXEDO JUNCTION/ BODY AND SOUL/ ONE O'CLOCK JUMP/ IN THE MOOD/ A TIME FOR LOVE/ THE WOODCHOPPER'S BALL/ YOU MADE ME LOVE YOU/ THE KID FROM REDBANK/ GOING TO THE CHAPEL/ BOOGIE WOOGIE BUGLE BOY.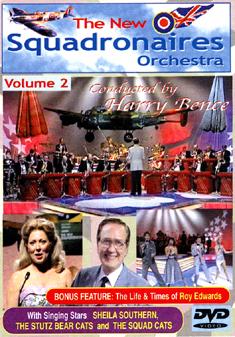 The NEW SQUADRONAIRES - Volume 2
also featuring Roy Edwards MS.DVD.576 79 mins colour
More great Big Band standards are featuring in this second DVD, specially recorded for TV - with Sheila Southern, Stutz Bear Cats, & The Squad Cats. There is also an exclusive interview with Roy Edwards, band singer and one-time leader of the original Squadronaires, as well as the vocalist with the Geraldo Orchestra and the Oscar Rabin Band. He became the most-featured TV singer ever on 'Lunch Box', a Midlands magazine show with Noele Gordon. It ran for 10 years - 5 days a week, and he had to learn a new song for every show.
Features: APRIL IN PARIS/ YOU'LL NEVER KNOW/ MOONLIGHT SERENADE/ PINETOPS BOOGIE/ STREETS OF AMERICA/ HARLEM NOCTURNE/ AMERICAN PATROL/ SATIN DOLL/ L'IL DARLIN'/ BLUES IN THE NIGHT/ ALL THE THINGS YOU ARE/ FEVER.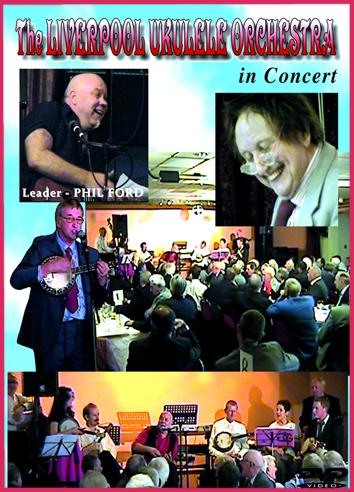 THE LIVERPOOL UKULELE ORCHESTRA MS.DVD.666 40 mins colour
In concert at their Liverpool base and as special guests of KEN DODD, the recently-formed L.U.O. perform group and individual numbers that will have you smiling, tapping your feet and singing along. It features vocals from our multi-talented leader PHIL FORD, with guests Mal Jefferson and young Francesca Davies.
There is also a stunning solo piece from uke maestro John Shreeve - just listen to the William Tell Overture on uke!
Songs: ROCK AROUND THE CLOCK/ YOU NEVER CAN TELL/ QUE SERA, SERA/ JAMBALAYA/ THREE LITTLE BIRDS/ THE KING OF THE SWINGERS/ BUTTON UP YOUR OVERCOAT/ HAPPINESS/ THE BLACKPOOL BELLE/ WHEN I'M CLEANING WINDOWS/ THE WILLIAM TELL OVERTURE.
To select other pages, scroll to the top of the page and use the page descriptions