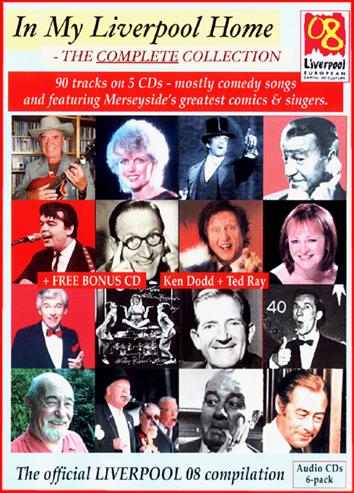 In My Liverpool Home - The COMPLETE Collection 6-CD Pack
MS.CD.648 111 Tracks 272 mins
This series is the official Liverpool 2008 Capital of Culture comedy collection.
Our huge compilation includes scores of songs and sketches not available anywhere else in the world. The 111 tracks cover all of the major Liverpool comedy stars from Robb Wilton up to Ken Dodd and everybody inbetween. There are also stacks of rerecorded material to plug all the necessary gaps. CD no. 6 features Ted Ray (Ray's A Laugh BBC radio show) and Ken Dodd (interviewed by Ricky Tomlinson) - the very best of comedy from Liverpool. There is simply no competition. It took years to produce. It's a collection to treasure that will amuse you and will be a talking point for future generations. How many famous faces can you recognise?
6 CDs in a library bookcase pack with full track listings - details below.
£25 inc p+p world-wide Email mastersound123@aol.com
Also on Amazon

Volume 1 - Songs of The City & The Sea
With Liverpool sea shanties, pub favourites and local anthems, producer Mal Jefferson selects 20 cracking tracks. Featuring Billy Maher, Carol Christmas, shanty singers 'Stormalong John' and Billy Maher, this is one of the region's top-selling CDs, featuring some rare gems.
Also features Lee Brennan/ Pocheen/ Hughie Jones/ Collage/ Monkey's Orphan/ Forebitter/ Julie Anne Carr.
Volume 2 - Merseybeat Mania
A collection of original and re-recorded Merseybeat standards featuring a wide selection of stars of that era. Specially selected by original Merseybeat band leader Mal Jefferson, this is the definitive CD of the Merseybeat Era and has become a popular best-selling CD.
With Kingsize Taylor/ The Big Three/ The Remo Quartet/ The Mastersounds/ Ian & The Zodiacs/ Faron's Flamingoes/ The Mojos/ Rory Storm/ The Undertakers/ The Merseybeats/ Lee Curtis/ Earl Preston/ Gerry Stewart.
Volume 3 - Merry Melodies
With the old-timers and the new comics, here's some great rib-ticklings local favourites. Including a live Ken Dodd track, we trawl the BBC archives and our own master tapes for some Merry Melodies.
With Gaz & The Groovers/ Brenda Davenport/ Bobby Kaye/ The Travelling People/ Tom O'Connor/ Mick Moon/ Ken Dodd/ Billy Cotton/ Mal Jefferson/ Tommy Handley/ Mike Donohoe/ Kingsize Taylor/ Arthur Askey/ Chris Rimmer.
Volume 4 - Ticklish Tunes
A fourth comedy collection, includes Frankie Vaughan, Arthur Askey and some more up-to-date mirth-makers. Tony Blake (a huge hit on local radio) has two special musical parodies that he wrote himself. Also, the late Les Braid of the Swinging Blue Jeans lays down his own special Rudy Vallee feature that was always requested at The Cavern. The Travelling People reprise two Scaffold hits with great gusto.
With The Travelling People/ Dougie Webb/ Tony Blake/ David Garrick/ Frankie Vaughan/ The Mastersounds/ Arthur Askey/ Les Braid/ Geoff Nugent/ Gilly Goldsmith/ Mal Jefferson.
Volume 5 - Dotty Ditties
The fifth collection of 20 comic songs features a wide range of comics and singers. Two BBC Radio Merseyside regulars, Billy Butler and the late Brian Jacques (who wrote the Redwall books) are also captured. There's also another fine musical parody from Tony Blake.
With Mal & Lennie/ Billy Butler/ Robb Wilton/Norman Vaughan/ Brian Jacques/ Roy Edwards/ Murgatroyd & Winterbottom/ Tony Blake/ Florence De Jong/ Bobby Kaye/ Arthur Askey/ Allan Schroeder/ Tommy Handley/ Rex Harrison/ Lee Curtis/ Gordon Bennett/ The Black Knights.
Volume 6 - Ted Ray/ Ken Dodd
The last CD, previously only available as part of the complete 6-pack, is the icing on the cake. It contains a complete episode of Ted Ray in the BBC radio show 'Ray's A Laugh', which is no longer available anywhere else, and which also featured Peter Sellers. There's also a tribute to the greatest Merseysider of all time - Ken Dodd. He is interviewed on reaching 80 by Ricky Tomlinson, and he looks back on his wonderful career in comedy and music.
Individual Albums £10 each - inc p+p world-wide Email mastersound123@aol.com
To select other pages, scroll to the top of the page and use the page descriptions