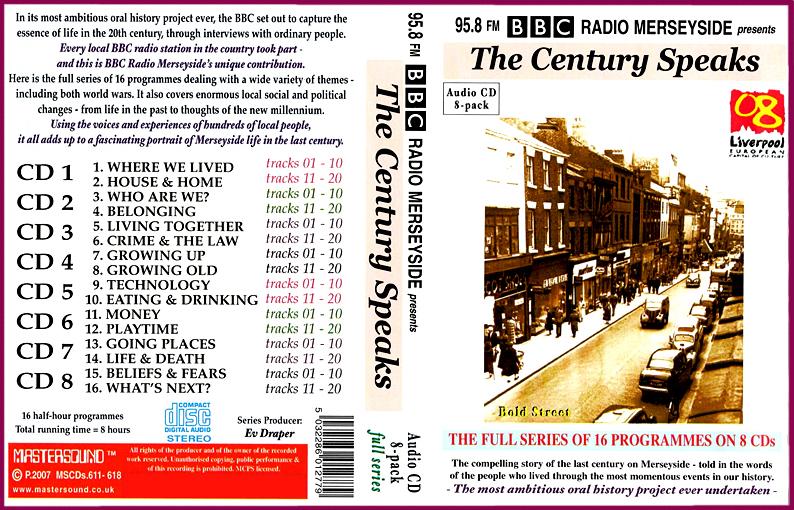 THE CENTURY SPEAKS
BBC Radio Merseyside Edition
MS.CDs. 611-618 In Library Pack 8 hours
At the end of the 20th Century, the BBC asked all 35 local radio stations to compile a full spoken history of their local area in 16 half-hour programmes. The topics were the same for all areas and covered every aspect of life in the local community. This is the story of the mighty port of Liverpool and its suburbs.
Using thousand of interviews, listen to the locals talk about the building of the seafront, the liners, World War 2, The Beatles, the music, the culture - in fact the widest range of topics that affect us all.
This is the official history of Merseyside now in the British Museum and is an invaluable source of information for historians and social studies. It was the largest and most comprehensive oral history ever recorded.
Loading...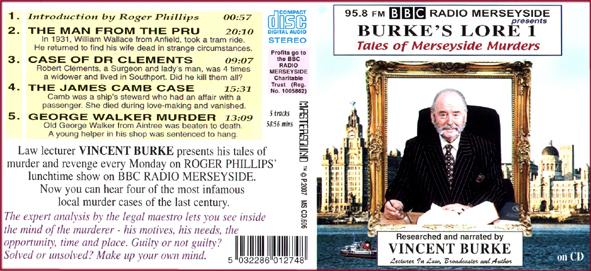 VINCENT BURKE - Burke's Lore - Vol. 1
One of the most popular features of BBC Radio Merseyside's daytime programmes were the visits of law lecturer, Vincent Burke. In considered detail, and with the inside knowledge of the trained solicitor, he explored the most dastardly (and interesting) murders in detail - explaining the motives and circumstances of these extreme crimes. How do you push a body out of a porthole?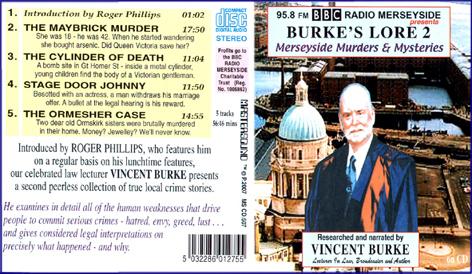 VINCENT BURKE - Burke's Lore - Vol. 2
Our celebrated local lawyer investigates the circumstances of another 4 dreadful murders. The first case was commuted from hanging to life imprisonment. The question was - who intervened? The finger pointed to no less than Queen Victoria.
Here's another fascinating collection of murder cases.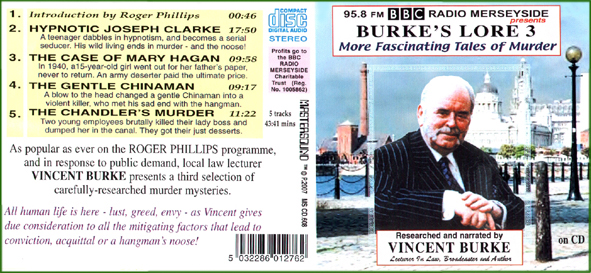 VINCENT BURKE - Burke's Lore - Vol. 3
Included in the final 4 tales of murder is the story of a young man fascinated by hypnotism. He used his powers it to seduce and ravish vulnerable girls. His wild living finished abrubtly, when he was introduced to the hangman's noose.
The final remarkable collection from our late, legal expert.
Individual CDs £10 each - inc p+p world-wide Email: mastersound123@aol.com (paypal)
To select other pages, scroll to the top of the page and use the page descriptions